My Bobber Rebuild Thread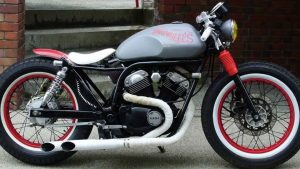 A while back, I saw a YouTube video of the bike there on the left. It's a Yamaha SRV250 Rennaisa, similar to my older red SRV. Well, I'd call it love at first sight. I liked the lines and the way it sounded.
So I decided that's what I'd do with my SRV. I'm gonna make it a Bobber. I've been researching parts and what-not online since then, but I finally got the project started this weekend.
You can check out the progress that I make, here, on the SRV250 Forum in the Tech talk thread. It's gonna be slow going as this is my first custom build, but if you're interested take a look every now and then.
Hey!!! It's done!  Fucking took long enough!  Check out the link above to see the details of the build.