Spa Naoiri #5
5th? Track Day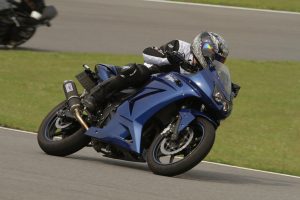 On October 25th, I participated in another track day.  I don't remember if it was the 5th or 6th time.  Great weather and a great group to ride with though. The track photographer managed to get a few good pics, so I thought I'd post some here.
  Since I last wrote about Spa Naoiri, they have gotten rid of the open speed grouping, so the 2 really fast guys in our group had to ride with us in the "Mid-Level" group.
  That means I was behind a ZX6-R the last two runs.  On the first run, I let a guy from my neighborhood go ahead of me.  When he was young, he had wanted to be a racer so he's really fast.  He left me in the dust last time because I was off my game and he was amped out to be at the track again for the first time in years.  This time, I had readjusted my fuel mapping and was paying better attention to my power band, so I stuck to him like glue.
  Last time, I was just not in the right place in my head.  My positioning on the bike was stiff and out of place, including where my hands were on the handle bars.  I also wasn't looking ahead, but kept looking at the rider in front of me.  One of my worst days so far.   Which was a good thing.  There's nothing like feeling like shit when you finish to get your head out of your ass and push you to review everything about your riding style.
Anyway, "Neighborhood Guy" got thrown off his game when the teacher upped the speed and he lost his line then couldn't get it back.  He let me take second spot for the last two runs and I had one of my best track days so far.  The new tires and map adjustment were right on and I couldn't be happier with how my bike is running.
Ok, I'll just shut up now and post a bunch of pics.
First up, team Kawasaki warming up and showing us the lines.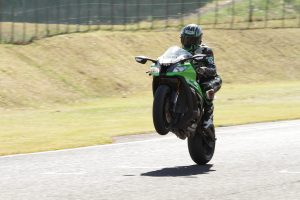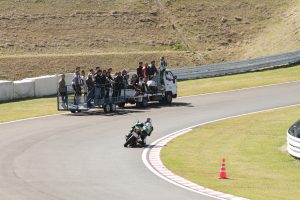 The first pictures are from turn #7.  That's a hairpin left and the second to the last turn before the straight.  After dragging my peg feelers on this corner on the first run, I decided to pull them off.  Dragging the edge of my boot is a lot less startling and gives me a better feel for where I am in the lean.  Anyway, here are a couple of shots.
The dude in front of me on that last pic is "Neighborhood Guy."  Even at the track, he's sporting his Sorrel's and jeans.  (Don't be fooled by 'em – he fast as hell!!)
The last run, it looks like the cameraman was stationed at turn #6.  That's a blind sharp right hander because you are coming uphill from turns 3~5.  It's a steep slope right before you get to the turn in point for #6.  I was holding my own until about 3 laps from the end when Ken decided he had had enough of sitting in the back of the pack.  He got by everybody then flew by the 3 of us in the front on the straight.  (He's well known to be a good rider at the circuit, so they don't say anything when he passes even though we are theoretically not supposed to.)  That's him on the ZX6-R with the white helmet and black jacket.
Great day and worth the 3 hour drive to get there.  Just wish there wasn't so much traffic coming home.