Kayo's Cookie Recipe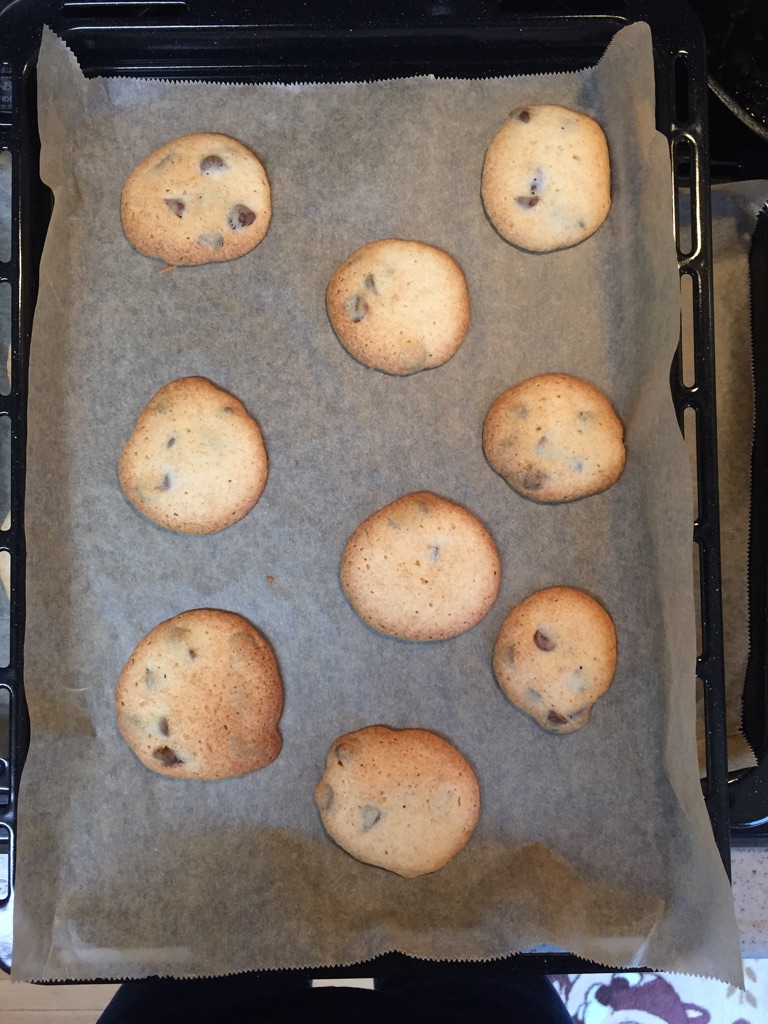 Here's a recipe for some chocolate chip cookies my friend's wife makes.  I tried using the recipe from my Fannie Farmer's cookbook and they turned out thin and flat -> good, just too runny, even after freezing the dough.
These, on the other hand were fluffy and nice – though not so easy to brown. (Turns out the difference is probably baking soda vs baking powder.)  I really like the touch of cinnamon and added a pinch of nutmeg just out of pure audacity.  Anyway, I've translated the recipe into English and left the original Japanese below.
Enjoy!
Chocolate Chip Cookies
1. 50 grams of Salt-free butter at room temperature
2. Slowly mix in 100 grams of sugar (I used 50% brown sugar)
3. Add 1 egg white
4. Add 2 tbs of milk
5. In another bowl mix 100 grams of flour, 1/2tsp of baking powder and a pinch of salt then add that to the butter-sugar and mix it well
6. Add 2 shakes of cinnamon and a little vanilla essence and 55 grams or so of chocolate chips (You can also add 2 tbs of chopped almond and/or some walnuts if you want)
7. Spoon out cookies about 3.5cm round onto a cookie sheet about 5cm apart
8. Bake at 180 degrees C for 5 minutes then 160 degrees for another 10 and you're finished (I actually baked mine for another 2 minutes at 180 at the end to brown them a bit and also did well just baking them at 180 for about 12 minutes. – I have a convection oven so your times may be different.)
チョコチップクッキーの作り方
1.無塩バター50gは室温に戻し、柔らかく練ります。
2.砂糖100gを少しずつ混ぜます。
3.卵黄1個分を入れます。
4.牛乳大2を入れます。
5.薄力粉100gとベーキングパウダー小1/2と塩ひとつまみを合わせた粉類と先ほどの生地をさっくり混ぜ合わせます。ここで練らないこと。
6.シナモンパウダー2振り、バニラエッセンス少々、チョコチップ55g、アーモンドダイス大2を入れます。(わたしはチョコチップしか入れませんでしたけど)チョコチップの量は好みで変えて良いです。
7.生地を濡れた手で3.5cmくらいに丸めてお互いを5cmくらい離して天板に並べます。
8.オーブン180℃で5分のあと、160℃に下げて10分焼きます。おわり。