Hosts App for Mac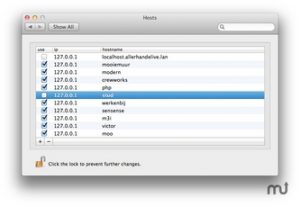 For those swapping from a Windows environment to a Mac, one problem that is often experienced is the ability to open websites hosted on a local network via their domain name.  In Windows, we edit the host file so that it interprets the domain name as the local IP.
How do you do that with a Mac, though?  As far as I could tell, there is no easily editable host file.  What there is though is even better.
Download and install the Hosts app for a fantastically easy user experience.  You can switch the domain interpretation on and off with ease, so when you are away from home it's simple to just uncheck the box and see your site.
All the relevant instructions are available at the site – and it's pretty much self explanatory anyway.  If you are running your own web site from a home server, I totally recommend this handy little tool.  Hell, it's even FREE!!  What more could you ask?