Bear Complex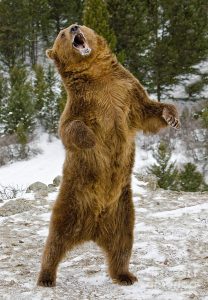 Okay, so after I came to live here in the south of Japan, I soon discovered something – it doesn't snow and the mountains are too damn small to really call it hiking. (Around here anyway – don't get all uppity and start goin' off on how the Japan Alps is big and all that – I know.  They just aren't in my backyard like the Rockies were.)
Anyway, I decided I needed to do something for exercise.  That's how I got into Karate.  Looked like good exercise – and it was.  However, now that I'm out of the game for the most part (that's another story) I have been looking at different things to do to keep in shape.  One of my colleagues started weight training and invited me to work out with him, so I've been doing that twice a week since April '13.  It's been good, but not so organized.
I saw some footage of a program called Crossfit and liked what they were shooting for. I don't just want to pack on meat like an iron head – I hope to keep my stamina up and get a full body workout. (That's what Karate gives you.)  So, the dude I work out with found a video on line and we've started implementing what they call the Bear Complex.  Well, we did our first set of them yesterday and MAN, what a workout.  That was just what I was looking for.  I look forward to making it a standard part of our training.
Here's a vid on how to do it.  Of course there are various methods, intervals and what-not so do what you will with it.
Edit: My workout regime yesterday:
Warm-up by doing several Kata (Yesterday I did Seishan, Chinto, and Kushanku)
5 minutes of torso rotation
(I hold a 10kg dumbbell and do 2 sets of 2 1/2 minutes – 1st set right after warm-up – 2nd set as cool down)
100 situps on incline bench (2 sets of 50 – 1st set after torso rotation, 2nd set interspersed with other exercises)
Bear Complex (5 sets of 5 reps @ 27.5kg – I usually put about 2-3 minutes between sets)
Bench Press (3 sets of 5 @ 50kg)